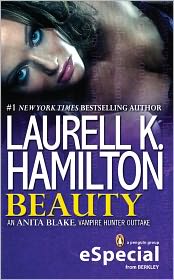 Here at the Nook Lovers we try to avoid shorts, but in this case, because it's part of a wildly popular series, we're making an exception.
This steamy outtake that takes readers even further into Laurell K. Hamilton's bestselling novel, Kiss the Dead.
You'd think I'd get used to seeing such a beautiful man and knowing he was mine, but it never grew old, as if his beauty and the fact that he was mine, and I was his, would forever surprise me.
With a vampire like Jean Claude around, it's far too easy for Anita Blake to doubt her own appearance—and the hold it has on those who love her. But one hot tub and two incredibly sexy men—Jean Claude and Asher—will make her feel like the most lusted-after woman alive…or undead. Not bad for a mere human…
"Hamilton remains one of the most inventive and exciting writers in the paranormal field."—Charlaine Harris, #1 New York Times Bestselling Author
Includes an excerpt of Kiss the Dead, the new Anita Blake, Vampire Hunter novel