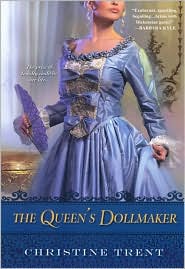 On the brink of revolution, with a tide of hate turned against the decadent royal court, France is in turmoil—as is the life of one young woman forced to leave her beloved Paris. After a fire destroys her home and family, Claudette Laurent is struggling to survive in London. But one precious gift remains: her talent for creating exquisite dolls that Marie Antoinette, the Queen of France herself, cherishes. When the Queen requests a meeting, Claudette seizes the opportunity to promote her business, and to return home. . .
Amid the violence and unrest, Claudette befriends the Queen, who bears no resemblance to the figurehead rapidly becoming the scapegoat of the Revolution. But when Claudette herself is lured into a web of deadly political intrigue, it becomes clear that friendship with France's most despised woman has grim consequences. Now, overshadowed by the specter of Madame Guillotine, the Queen's dollmaker will face the ultimate test.
Infused with the passion and excitement of a country—and an unforgettable heroine—on the threshold of radical change, this captivating novel propels readers into a beguiling world of opulence, adventure, and danger, from the rough streets of eighteenth-century London to France's lavish Palace of Versailles.
"Winningly original. . .glittering with atmospheric detail!" —Leslie Carroll, author of Royal Affairs
"Unique, imaginative. . .replete with delightful details and astounding characters, both real and imagined." —Donna Russo Morin, author of The Courtier's Secret
Christine Trent writes historical fiction from her two-story home library. She lives with her wonderful bookshelf-buildinghusband, three precocious cats, a large doll collection, and over 3,000 fully cataloged books. She and her husband are active travelers and journey regularly to England to conduct book research at historic sites. It was Christine's interest in dolls and history that led to the idea for The Queen's Dollmaker.