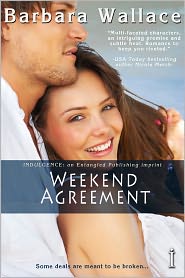 Another fabulous love story by the award-winning author, Barbara Wallace!
Cynical billionaire Daniel Moretti works hard, plays harder, and has one ironclad rule. Never trust a woman. Bad news for historian Charlotte Doherty who shows up at exactly the wrong time. Like every other woman in Daniel's life, Charlotte wants something from him–the deed to her family farm. Daniel agrees, but only if he gets something in return: Charlotte's company for the weekend!
The property is Charlotte's only link to the mother she never knew. Desperate to keep her history alive, she'll accept Daniel's indecent proposal, but not without a few terms of her own. Namely, a propriety clause. No flirting. No kissing. No sex.
Daniel has no intention of honoring her conditions, but after one weekend with Charlotte leaves him hungering for more, he can't help wondering if she could be the exception to his unbreakable rule…
Twitter: @BarbaraTWallace