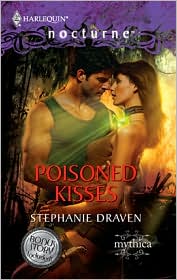 This book of Greek Mythological paranormal romance was nominated for RT's Best First Series and was a finalist in the Colorado Romance Writer's Award for Excellence as well as New England's Bean Pot Award.
She can disguise herself as the only woman he's ever loved...
It's not easy to be a Daddy's Girl when your father is Ares, Greek God of War. To thwart her father and all those who serve him, Kyra intends to assassinate a modern day hydra. To kill him, she needs to seduce him, but Marco Kaisaris isn't the monster she thinks he is-and even if he doesn't break her heart, he may still be the death of her.
He can wear the face of anyone who has ever hurt him...
This former soldier-turned-gun-runner thinks his true identity is safe, but a mysterious woman is about to force him to face the tragic past he thought he left behind.
Can they see past each other's masks to find a love that's more than skin deep?