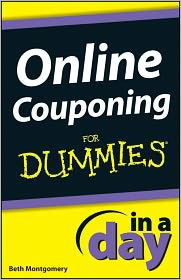 We're all about economizing here at the Nook Lovers, and we figure that if you save money at the grocery store, you'll have it to spend on really important things like more books!
Coupon online like a pro and save big money with this 100-page e-book
On a budget and need help figuring out how to coupon online? This concise e-book will show you where to go online to find the best store and manufacturer coupons, how to combine them for the best deals, and how to stay organized. Get this bargain priced e-book with "beyond the book" extras including a video demonstration, checklist, and more.
Contains 100 pages of couponing tips, techniques, and ideas for saving money
Includes extras online, including a video, checklists, and more
Shows how to find, use, and combine money-saving coupons, and keep them organized
Tired of sifting through hundreds of blogs looking for coupons? Here's an online couponing guide you can trust: Online Couponing In A Day for Dummies.