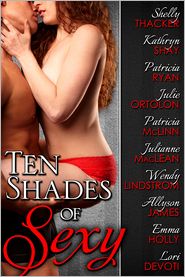 No need to skip pages to the naughty parts with this hot read...
Readers love to bookmark "the good parts" of their favorite romance novels, the scenes they want to read again...and again. Ten Shades of Sexy is a FREE sampler collection that brings you nothing but the good parts! Enjoy ten complete love scenes selected from ten steamy novels written in ten different shades of sexy: from heartbreakingly tender to scorchingly erotic. Whether you love contemporary, historical, or paranormal romance, you'll find something to tempt and please you in this collection--and you might just discover some new favorite authors. Total length: 40,000 words, about 125 pages (size matters!) Adult content warning: explicit love scenes (ten of them!) Some scenes include graphic language and highly erotic subject matter.
Authors include: Shelly Thacker, Kathryn Shay, Patricia Ryan, Julie Ortolon, Patricia McLinn, Julianne MacLean, Wendy Linstrom, Allyson James, Emma Holly and Lori Devoti
Indulge in
Ten Shades of Sexy (A Free Sampler Collection)
for FREE!