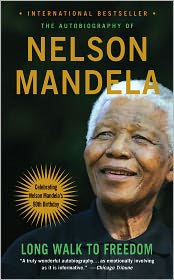 Sundays are good for deep thoughts and they don't get much deeper than in this autobiography--an international bestseller.
LONG WALK TO FREEDOM is his moving and exhilarating autobiography, destined to take its place among the finest memoirs of history's greatest figures. Here for the first time, Nelson Rolihlahla Mandela tells the extraordinary story of his life--an epic of struggle, setback, renewed hope, and ultimate triumph.
Here, at last, are the riveting memoirs of one of the great moral and political figures of our time, an international hero whose accomplishments won him the 1993 Nobel Peace Prize--and recently the elected leadership of his country. Mandela's story is one of the most powerful and inspiring of the 20th century. Photographs.