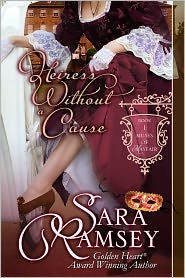 Look at this cover, people! We want to nibble it like a scone and wash it down with Earl Grey. For a limited time only, this award-winning novel has been discounted to 99 cents-- less than it would cost us for that cup of tea. Trust us when we say, pick up this bestseller without delay!
One title to change his life...
A disgraced son with a dark reputation, William "Ferguson" Avenel is content to live in exile - until his father dies in the scandal of the Season. With rumors of insanity swirling around them, his sisters desperately need a chaperone. Ferguson thinks he's found the most proper woman in England - and he won't ruin her, even if he secretly desires the passionate woman trapped beneath a spinster's cap.
One chance to break the rules...
Lady Madeleine Vaillant can't face her blighted future without making one glorious memory for herself. In disguise, on a London stage, she finds all the adoration she never felt from the ton. But when she's nearly recognized, she will do anything to hide her identity - even setting up her actress persona as Ferguson's mistress. She'll take the pleasure he offers, but Madeleine won't lose her heart in the bargain.
One season to fall in love...
Every stolen kiss could lead to discovery, and Ferguson's old enemies are determined to ruin them both. But as their dangerous passion ignites their hearts and threatens their futures, how can an heiress who dreams of freedom deny the duke who demands her love?