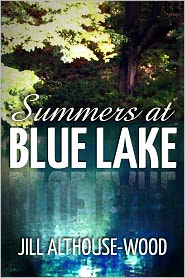 She thought that her family was an open book, without secrets. Even as a child, Barbara Jean Ellington knew her grandmothers were lesbians, a truth they never concealed. During BJ's summer vacations at their home on Blue Lake, Nonna and Lena taught her to swim and play cards, provided a lively contrast to BJ's conservative parents, and comforted BJ when her first summer romance ended abruptly and without reason.
Now, years later, BJ seeks refuge in her late grandmothers' house in the wake of her husband's affair. As she relives the languid summer days of her youth and prepares the house for sale, she struggles to come to terms not only with the looming threat of divorce, but also with the Pandora's Box of family revelations she uncovers in Nonna's hidden notebooks.
In them, she discovers a fifty-year family history littered with secrets from the past--secrets that have present day consequences for herself, her marriage, and for Travis, the boy who broke her heart during that long-ago summer.
With discerning prose and compelling characters, SUMMERS AT BLUE LAKE follows in the tradition of bestselling authors such as Anita Shreve, Elizabeth Berg, and Sue Miller.
Indulge yourself for only $2.99: Summers at Blue Lake