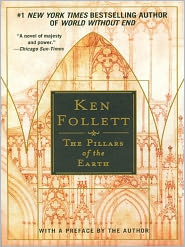 Between the two of us here at the Nook Lovers, we've managed to read this book probably a total of eight times. It was on Oprah's Book Club, it has been made into a mini-series, and it's like stepping into another world. This book is so good, so epic, so sweeping, that this price is a steal.
As a new age dawns in England's twelfth century, the building of a mighty Gothic cathedral sets the stage for a story of intrigue and power, revenge and betrayal.
Ken Follett, internationally-acclaimed master of split-second suspense, author of six #1 bestsellers, reaches beyond the expected to achieve his most brilliant and remarkable novel. The epic story of the building of a cathedral in 12th century England and the lives of the people entwined with it and each other is a sensuous, enduring narrative, and a gripping tale of faith, ambition, bloodshed and betrayal.