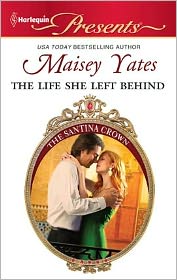 If you've never tried the Harlequin Presents line before, now is your chance to get a taste of it without any of the risk. Also, Maisey Yates is a rising star, so check her out.
The Santina Crown... Royalty has never been so scandalous!
Heiress Angelina Carpenter traded in diamonds for denim—and the freedom to make her own choices—when she fled from her arranged marriage to Sheikh Taj Ahmad. Now working as a nanny for the royal family of Santina, Angelina can't help but risk a glimpse at the glamorous life she left behind during a lavish party...and runs straight into Taj! And this time, the ruthless sheikh has no intention of letting his runaway bride get away...
A prequel novella to The Santina Crown series.