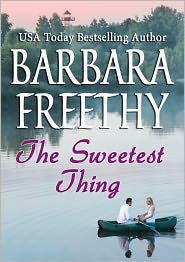 #1 New York Times bestselling author Barbara Freethy delivers a romantic, touching and sometimes humorous story of love and family, with a cast of quirky, loveable characters.
Alone in the world, Faith Christopher had always yearned for love and a man who'd make her heart pound. But her dreams of a place to call home were getting harder to hold on to ...
Alex Carrigan liked fast cars, fast women and fast deals - then a tough-talking teenager arrived on his doorstep claiming she was his long-lost daughter, and his meddling grandfather decided to move in. Suddenly, Alex has to face the family he never expected.
Little did the outspoken and beautiful baker know that deep inside Alex was a well of tenderness ... and that she might have the recipe to bring him true love - the sweetest thing life has to offer.