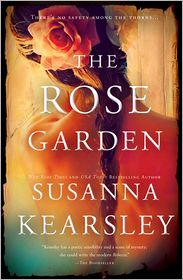 Susanna Kearsley is a favorite of ours and if you enjoyed the premise of Outlander, you might like this one too.
Kearsley beautifully evokes the wild landscapes and history of Cornwall in this pleasant time-travel romance. In the present day, Eva Ward travels to the Cornish coast carrying her sister's ashes, determined to lay her to rest at Treloworth, the estate they summered at as children with the Hallet family.
As she reconnects with the Hallets, Eva tries to figure out how to start her life over. Then Eva is transported back to 1715, a time when smuggling was common and hidden Jacobites swarmed the coast. At first she fears she might be hallucinating, but soon she meets and falls in love with widower Daniel Butler, who accepts Eva's time traveling at face value.
Kearsley masterfully writes authentic voices for Eva and Daniel as they wrestle with their improbable connection and its implications.
(This was the listed price as of 3/4/2012--prices subject to change, so act fast.)