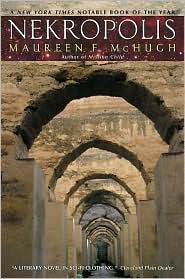 This New York Times Notable Book of the Year is our favorite book written by Hugo Award-winning SF author, Maureen McHugh. At $9.99 we think it's a bargain because this book is both beautiful and brilliant.
Life exists in the Nekropolis—but it is ia life with no future. To escape, Hariba agrees to be "jessed," a technobiological process that enhances natural loyalties. At 26, she enters a wealthy household as an indentured servant, free, she believes, of the Nekropolis.
Akhmim, a beautiful, charming harni, an intelligent, machine-bred creature, also enters Hariba's new household. Occupying the lowest stratum of society, harni are despised—and feared—by their "superiors" for their cool detachment. And though he is considered less than human, Akhmim asks Hariba troubling questions she cannot answer, questions that cut to her soul.
Hugo Award-winning author Maureen F. McHugh has imagined a breathtaking story of humanity and individuality, creating a society in which two misfits defy rigid conventions as they dare to do the impossible...fall in love.