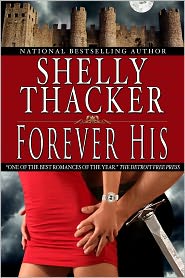 Available at this special price for a limited time!
An enchanting time-travel romance for fans of Jude Deveraux and Diana Gabaldon.
Sir Gaston de Varennes wanted a docile bride who would fit into his plans for vengeance and justice, but a trick of time finds him married to a thoroughly modern American lady who turns his castle, his life, and his heart upside down. Will her desperate secret tear them apart after only a few bittersweet weeks of stolen passion--or will they conquer mistrust, treachery, and time itself to discover a love that spans the centuries?
Winner of the National Readers Choice Award: Best Historical Romance of the Year
A full-length novel of 125,000 words
Adult content: explicit love scenes -- Originally published by Avon Books
This Author's Preferred Edition e-book includes bonus content: "The Making of Forever His: The Story Behind the Story," plus sneak previews of upcoming Shelly Thacker books.