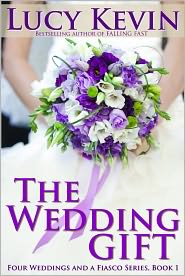 Here at the Nook Lovers we want to marry this cover. Four weddings and a fiasco? That sounds like so much fun that whatever Lucy Kevin asks of us, we're ready to say I do!
Fans of romance novels by Nora Roberts, Debbie Macomber and Susan Mallery will enjoy THE WEDDING GIFT by Lucy Kevin, the first fun, sweet contemporary romance in the Four Weddings and a Fiasco series.
After Julie Delgado's restaurant closes, she temporarily takes over the catering position at the Rose Chalet, a full-service San Francisco wedding venue. She plans to dazzle the bride and groom so the Chalet's owner will keep her around, but fate has other plans for her when the bride's brother shows up for the first food tasting.
Andrew Kyle is not only the Cuisine Channel's Edgy Eats host and chef, but his recent review of Julie's restaurant was the final nail in its coffin. Once he meets Julie at the Rose Chalet, he's certain she's playing it safe. And he wants nothing more than to be the one to break her guarded passions loose.
But despite the undeniable sparks between Julie and Andrew – and the fact that he seems to believe in her when no one else does – can she afford to be taking risks with her cooking, with her career…or with her heart?
(THE WEDDING GIFT is an eBook original novel of 40,000 words - approximately 180 pages)