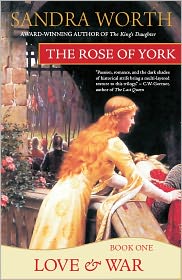 Move over Tudors! This is the first novel in the multi-award winning ROSE OF YORK SERIES revolving around the tragic figure of King Richard III and the Wars of the Roses. Seriously, this is a steal!
Set in Malory's England during the Wars of the Roses, this acclaimed winner of a remarkable nine awards tells the true story of two star-crossed lovers -- Richard of Gloucester and Lady Anne Neville -- before they become King and Queen of England. A stirring tale of romance and intrigue.
A love story based on history set in Malory's England, and the winner of six awards.
"Expounding an historical epic of honor and love during the time of the Wars of the Roses, The Rose of York: Love & War is both dramatic and evocative in its portrayal of struggling souls making the best choices they can in an unjust world. A deftly written, reader engaging, thoroughly entertaining and enthusiastically recommended historical novel which documents its author as a gifted literary talent." --Midwest Book Review
"The historical detail is marvelous. Worth's depiction of the troubled times, uncertainty of life and the portrayal of historical figures as multidimensional people with good intentions, bad decisions, greed, jealousy and goodness of heart will leave you wanting the next book immediately." --Romantic Times Magazine, A Romantic Times TOP PICK!