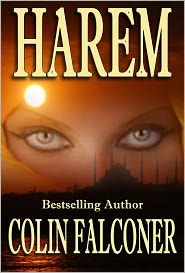 Colin Falconer is the best selling author of WHEN WE WERE GODS and AZTEC and over twenty other novels. His books have been translated into seventeen languages.
"A page-turner . . . This peek behind the walls of the seraglio will seduce lovers of large-scale historical fiction." - Booklist
He had everything a man might dream of; wealth, power and the choice of hundreds of the most beautiful women in his Empire. Why then did he forsake his harem for the love of just one woman, and marry her in defiance of the centuries-old code of the Osmanlis?
This is the astonishing story of Suleiman, the one they called the Magnificent, and the woman he loved.
Suleiman controlled an empire of thirty million people, encompassing twenty different languages. As a man, he was an enigma; he conquered all who stood against him with one of the world's first full time professional armies - yet he liked to write poetry; he ravaged half of Europe but he rebuilt Istanbul in marble; he had teams of torturers and assassins ready to unleash at a whim - yet history remembers him as a great lawmaker.
''Harem' literally means 'Forbidden': Forbidden to men. Once the Sultan was the only man - the only complete man - who could pass through its iron-studded doors. But what was that world really like?
For a woman living in the Harem the only way out was to somehow find her way into the Sultan's bed and bear him a son. But the young Sultan was often away at war and when he did return he neglected his harem for just one favourite wife. But one young Russian concubine inside his seraglio was not content to allow fate decide the course of her life. She was clever and she was ruthless. And she had a plan.
Into this world are drawn two unforgettable characters; a beautiful young Italian noblewoman, captured by corsairs and brought to the Harem as a concubine; and the eunuch who loved her once, long ago, in Venice.
From medieval Venice to the slave markets of Algiers, from the mountains of Persia to the forbidden seraglio of the Ottoman's greatest sultan, this is a tale of passion and intrigue in a world where nothing is really as it seems.