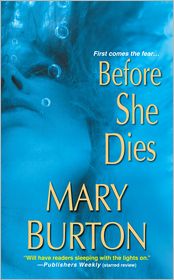 Here at the Nook Lovers, we've actually met Mary Burton and we can't figure out how such a very nice lady writes such creeptastic books. We're spooked just glancing at the cover, but in all the right ways. Thriller fans should grab this one up.
In death, they are purified. Holding his victims under water, he washes away their sins as they struggle for their last breath. Then he stakes their bodies to the ground, exposing them for what they really are. Witches, sent to tempt and to corrupt. . .
Jury. . .
No one knows about defense attorney Charlotte Wellington's murdered sister, or about her childhood spent with the carnival that's just arrived in town. For Charlotte, what's past is past. But others don't agree. And as a madman's body count rises, she and Detective Daniel Rokov are drawn into a mission that's become terrifyingly personal. . .
And Executioner
At last, she is within his reach. All his victims deserve their fate, but her guilt is greatest. And with every scream, he will make her see what it means to suffer and repent--before she dies. . .
Praise for the novels of Mary Burton
"Terrifying. . .this chilling thriller is an engrossing story." --Library Journal on Merciless
"Stieg Larsson fans will find a lot to like in Burton's taut, well-paced novel." --Publishers Weekly
"A twisted tale. . .I couldn't put it down!" --Lisa Jackson on Dying Scream