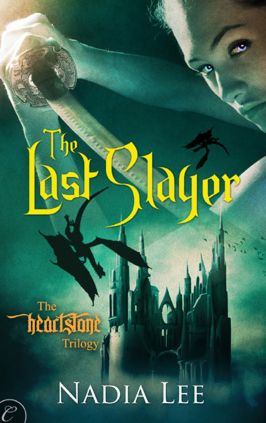 Ok, this is seriously cheap for a splurge book, at only four cents over our five dollar limit and we can't tell you how happy we are to feature the talented Nadia Lee. This is a brand new series from Carina Press and look at those crazy flying monkeys on the cover. (Ok, they're probably dragons, but we prefer monkeys.)
Ashera del Cid is a talented demon hunter, but when she kills a demigod's pet dragon, the hunter becomes the hunted. Her only potential ally is Ramiel, a sexy-as-hell demon. Now the two must work together to battle dragons and demigods…and the chemistry crackling between them.
Ramiel has his own reasons for offering Ashera his protection. He knows her true identity and the real reason the demigods want her dead. What he can't predict is how she'll react when she discovers he knew who she was all along...
Ashera is shocked to discover that she is the only daughter of the last slayer. To claim her destiny, she and Ramiel must join forces to face down danger and outwit their enemies. Only then will she be able to truly accept her legacy...
102,000 words.