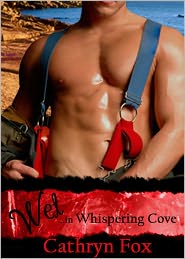 Celebrity Chef Kathleen Wilson has returned to Whispering Cove for her high school reunion. Tired of big city life, she is looking forward to relaxing in the quaint fishing village, but the one thing she's not looking forward to is facing the boy from her past. The boy she turned her back on ten years ago. The same boy she has never quite gotten over.
Firefighter Trent Parker has never given up on reuniting with his Katy, and when he hears she's back in town, he believes a blatant seduction is just the thing to show her where she belongs. Sparks fly the second they see one another and when he accidentally soaks her with his fire hose it generates heat and need inside them both with only one way to extinguish those fiery flames.
Soon they are burning up the sheets but when morning comes and the smoke clears, one question remains. Will Katy leave for another ten years, or will she realize the fire they've ignited isn't about to burn out?