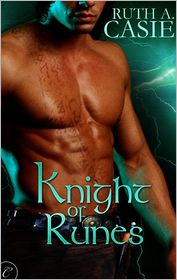 We had the pleasure of spending some time with New Jersey romance author Ruth Casie this past autumn where she was giving out little rune tattoos. We were delighted with them then and we think you'll be delighted with her paranormal romance now!
It's the 21st century and time travel is still a Wellsian fantasy but not for Rebeka Tyler. Rebeka is a renowned renaissance scholar at a prestigious university in upstate New York. She travels to England when she's awarded an inheritance that includes a manor and, more importantly, an unknown private library with documents dating back hundreds of years, a researchers dream.
While on an impromptu tour of Avebury, she takes a misstep at the standing stones, and finds herself tossed back into the 17th century. When Lord Arik, a druid knight, finds Rebeka wandering his lands without protection, he swears to keep her safe. But Rebeka can take care of herself. When Arik sees her clash with a group of attackers using a strange fighting style he is intrigued.
Rebeka is desparate to return to her time. She poses as a scholar sent by the king to help find out what's killing Arik's land to get access to the library. But as she decodes the ancient runes that are the key to solving his mystery and sending her home, she finds herself drawn to the charismatic and powerful Arik.
As Arik and Rebeka fall in love, someone in Arik's household schemes to keep them apart and a dark druid with a grudge prepares his revenge. To defeat him, Arik and Rebeka must combine their skills. Soon Rebeka will have to decide whether to return to the future or trust Arik with the secret of her time travel and her heart.