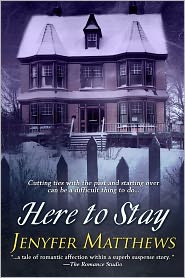 We have something really good for you today, readers. We're very excited about Jenyfer Matthews' new romantic suspense story. It looks moody...
All Julia Sullivan wanted was a fresh start in a new place. But cutting ties with the past and starting over can be a difficult thing to do.
After leaving her husband and quitting her job, Julia was emotionally spent. She needed a quiet place to recharge and to think about what she wanted from life. She thought she had found just that when she inherited her aunt's oceanfront Victorian house in Haven, New Jersey. It wasn't going to be that simple, however. In addition to her new house being a complete shambles, her charming soon-to-be ex-husband Patrick, whom she discovers she still loves, arrives with the intention of winning her back. To complicate matters further, it seems as if her aunt's death wasn't an accident after all. And there's just something about her new house that seems to interest all sorts of people.