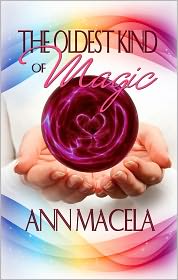 Ancient legends... love... magic... Some of my favorite things in a story!
What if you could cast a spell to help you do your everyday job? But... you weren't able to cast a spell on any person or any thing except yourself?
An ancient legend, the soul-mate imperative, is reputed to bring magic practitioners together and grant them new powers.
But Daria Morgan, management consultant and practitioner, doesn't want or need either a man or enhanced talents, not at the cost of losing control over her own life and not even in the hope of repairing her supposed "flawed" spell-casting abilities.
John "Bent" Benthausen is a corporate trouble-shooter who needs her help at work; he also wants her in his bed, but only temporarily. In the past, he's learned some harsh lessons about commitment and knows it's not for him.
The imperative, however, has persuasive techniques of its own and gets aid from an unlikely source: the crooks in Bent's company who are after both of them. Then it's time for Daria and Bent to experience the Oldest Kind of Magic...