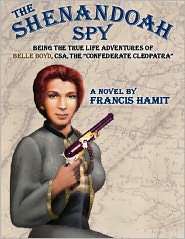 If you're lucky enough to grab this book while it's on sale for 99 cents, you've got it at a steal but even if the price has moved up to $9.99 it's still a delightful splurge considering the print version is more than $20. If you love American history, check it out.
This is the story of Belle Boyd, a 17 year old girl in Martinsburg, Virginia, who became a spy and scout for the Confederate Army and later the first woman in American History to be commissioned an army officer. Belle used her charm and sexuality to get information from Union Army officers and played an important role in providing Stonewall Jackson information he needed to begin his famous Valley Campaign of 1862.
The narrative here is based upon actual people and events of the time. Extensive research went into creating the framework of facts on which this historical novel hangs. It is not a tale for children since war is cruel and Belle was willing to anything -- anything!--she needed to do to gather intelligence for her superiors. She did much of this gathering at her uncle's hotel in Front Royal, from the midst of a Union Army headquarters,unwittingly assisted by Union Army officers who included her lover, Captain Daniel Keily.
This is the first of several books that Francis Hamit is writing about the Confederate Secret Service and the women who were its most effective agents.
Indulge yourself for only 99 cents!
The Shenandoah Spy (Civil War Historical Fiction)